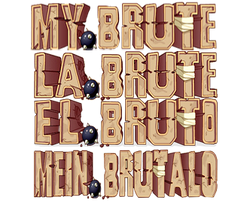 MyBrute
is available in 4 languages:
Each version has its own server, so brutes from different servers can't fight each other. Each one also has its own rankings with its respective brutes.
A player cannot see fights, brute cells or rankings from other servers. A player may change their language in this page and will be able to access the respective server of MyBrute.
La Brute was launched March 25, 2010. MyBrute and El Bruto were launched May 27, 2011. Mein Brutalo was launched November 26, 2011.
Stats
Icon
English

Spanish

French

German

Endurance

(Health)

Resistencia

(Vida)

Endurance

(Vie)

Ausdauer

(Gesundheit)

Strength
Fuerza
Force
Kraft

Agility
Agilidad
Agilité
Flinkheit

Speed
Velocidad
Rapidité
Geschwindigkeit
Skills

| Icon | English | Spanish | French | German |
| --- | --- | --- | --- | --- |
| | Herculean Strength | Fuerza de Hércules | Force Herculéenne | Herkulische Kräfte |
| | Feline Agility | Agilidad Felina | Agilité du félin | Katzenflinkheit |
| | Lightning Bolt | Golpe del Rayo | Frappe éclair | Blitzschlag |
| | Vitality | Vitalidad | Vitalité | Vitalität |
| | Immortality | Inmortal | Immortel | Unsterblichkeit |
| | Weapons Master | Maestro de Armas | Maître d'armes | Waffenmeister |
| | Martial Arts | Artes Marciales | Arts martiaux | Kampfkunst |
| | 6th Sense | 6º Sentido | 6ème sens | Senchster sinn |
| | Hostility | Belicioso | Pugnace | Kämpfernatur |
| | Fist of Fury | Tornado de Golpes | Tornade de coups | Schlaggewitter |
| | Shield | Escudo | Bouclier | Schild |
| | Armor | Armadura | Armure | Rüstung |
| | Toughened Skin | Piel Reforzada | Peau renforcée | Elefantenhaut |
| | Untouchable | Intocable | Intouchable | Unberührbarkeit |
| | Sabotage | Vandalismo | Vandalisme | Sabotage |
| | Shock | Choque | Choc | Schock |
| | Bodybuilder | Brazo Fuerte | Gros-bras | Mächtiger Arm |
| | Relentless | Implacable | Implacable | Gnadenlos |
| | Survival | Supervivencia | Survie | Überleben |
| | Lead Skeleton | Esqueleto de Plomo | Squelette Plomb | Bleiskelett |
| | Ballet Shoes | Bailarín | Ballerines | Ballettschuhe |
| | Determination | Perseverante | Persévérant | Entschlossenheit |
| | First Strike | Sangre Caliente | Sang-chaud | Erstschlag |
| | Resistant | Inagotable | Increvable | Resistenz |
| | Reconnaissance | Meditación | Méditation | Kampfsinn |
| | Counter Attack | Contra | Contre | Konterangriff |
| | Iron Head | Cabeza de Acero | Tête de fer | Eisenschädel |
| | Thief | Ladrón | Voleur | Dieb |
| | Fierce Brute | Bruto Feroz | Brute féroce | Wilde Bestie |
| | Tragic Potion | Poción Trágica | Potion tragique | Tragischer Trank |
| | Net | Red | Filet | Netz |
| | Bomb | Bomba | Bombe | Bombe |
| | Hammer | Martillo | Marteau-pilon | Dampfhammer |
| | Cry of the Damned | Grito Maldito | Cri-qui-poutre | Höllenschrei |
| | Hypnosis | Hipnosis | Hypnose | Hypnose |
| | Flash Flood | Diluvio | Déluge | Sintflut |
| | Tamer | Cazador | Trappeur | Dompteur |
| | Regeneration | Regeneración | Régénération | Regeneration |
| | Chef | Jefe | Cuisinier | Chef |
| | Spy | Espía | Espion | Spion |
| | Saboteur | Saboteador | Saboteur | Saboteur |
| | Backup | Refuerzos | Renforts | Backup |
Weapons

| Image | English | Spanish | French | German |
| --- | --- | --- | --- | --- |
| | Axe | Martillo | Marteau | Hammer |
| | Baton | Bastón | Bâton | Stock |
| | Broadsword | Espadón | Glaive | Breitschwert |
| | Bumps | Maza | Massue | Keule |
| | Fan | Abanico | Éventail | Fächer |
| | Flail | Mangual | Fléau | Dreschflegel |
| | Frying Pan | Sartén | Poêle | Bratpfanne |
| | Halbard | Alabarda | Hallebarde | Hallebarde |
| | Hatchet | Hacha | Hache | Beil |
| | Keyboard | Teclado | Clavier | Klavier |
| | Knife | Cuchillo | Couteau | Messer |
| | Lance | Lanza | Lance | Lanze |
| | Leek | Puerro | Poireau | Gleve |
| | Mammoth Bone | Hueso de Mamut | Os de mammouth | Mammutknochen |
| | Morning Star | Mamporro | Étoile du matin | Morgenstern |
| | Mug | Taza | Mug | Kaffeetasse |
| | Noodle Bowl | Bol de Ramen | Bol de noodle | Nudelschüssel |
| | Piopio | Pio Pio | Piou piou | Pio Pio |
| | Sai | Sai | Sai | Sai |
| | Scimitar | Cimitarra | Cimeterre | Säbel |
| | Shuriken | Shuriken | Shuriken | Shuriken |
| | Sword | Espada | Épée | Schwert |
| | Racquet | Raqueta de Tenis | Raquette | Tennisschläger |
| | Trident | Tridente | Trident | Dreizack |
| | Trombone | Trombón | Trombone | Trompete |
| | Whip | Látigo | Fouet | Peitsche |
Pets

| Image | English | Spanish | French | German |
| --- | --- | --- | --- | --- |
| | Dog | Perro | Chien | Hund |
| | Bear | Oso | Ours | Bär |
| | Panther | Pantera | Panthère | Wolf |
Ranks

| Icon | English | Spanish | French | German |
| --- | --- | --- | --- | --- |
| | Padawan | Padawan | Padawan | Padawan |
| | Finger Flicker | Golpeador del Desierto | Pichenette du Désert | Nasenstupser |
| | Plaster Puller | Arrancador de Tiritas | Tireur de Pansements | Pflasterausreißer |
| | Cheeky Slapper | Bofetada de Norris | Baffe de Richter | Ohrfeigenbaum |
| | Fist of Steel | Puño de Acero | Poing d'Acier | Stahlfaust |
| | Blazing Avenger | Llama Vengadora | Flamme du Vengeur | Flammender Rächer |
| | Furious Soul | Alma de Berserk | Âme de Berserk | Berserker |
| | Haemogoblin | Hemogoblin | Hemogrobil | Hämogrobian |
| | Sword Swallower | Tragón de Sables | Avaleur de Sabres | Schwertschlucker |
| | Satan's Bicep | Bíceps de Satán | Biceps de Satan | Satansmiskel |
| | Chaos Dentist | Dentista del Caos | Dentiste du Chaos | Chaoszahnarzt |
| | Brutal Legend | Leyenda Brutal | Légende Brutale | Brutale Legende |