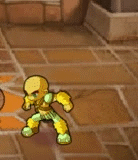 Damage
is a
Hidden stat
in MyBrute. It determines the amount of HP that is reduced from a brute after being successfully hit. It also is an essential element of the game. Every time a brute is hit, the damage amount is briefly show above the brute who received the hit.
Damage of all weapons (and bare-handed hits) are increased with Strength. When a weapon is thrown, the damage is influenced by Agility and Strength (the former being more significant.)
Various skills affect damage; some increase damage when using certain weapons, while others reduce the damage done by an opponent. Having a skill that increases Armor, this will decrease the damage received by the amount of Armor points a brute has.
Damage = floor((B + NK) * S * R - A) * H
B = base damage of weapon (constant for each weapon)
N = Strength
K = damage per strength of weapon (constant for each weapon)
S = skills multiplier (Weapons Master x1.50 / Martial Arts x2.00 / Lead Skeleton x0.70)
R = random number between 1.00 and 1.50
A = Armor stat (additive; Armor 5 / Toughened Skin 2)
H = hammer multiplier (x4.00 if Hammer; x1.00 if not)
Skills that influence damage
Edit
Skill
Weapons affected
Amount affected

Broadsword, Halbard, Knife,
+50%

Fists, Mug
+100%

All direct hits

and Flash Flood

-5

All direct hits

and Flash Flood

-2

Axe, Bumps, Flail,


Frying Pan, Keyboard, Leek,
Mammoth Bone, Morning Star,
Racquet, Trombone

-30%

Every kind of Damage
Maximum 20% the damage of total HP

of the brute receiving the hit

Every direct hit

while active

+100%
List of weapons by Damage
Edit
These are the values of Damage for each individual weapon:
| Weapon Name | Damage |
| --- | --- |
| Axe | 551 |
| Baton | 6 |
| Broadsword | 102 |
| Bumps | 301 |
| Fan | 4 |
| Flail | 361 |
| Frying Pan | 171 |
| Halbard | 242 |
| Hatchet | 17 |
| Keyboard | 71 |
| Knife | 72 |
| Lance | 12 |
| Leek | 51 |
| Mammoth Bone | 141 |
| Morning Star | 201 |
| Mug | 83 |
| Noodle Bowl | 10 |
| Piopio | 5 |
| Racquet | 61 |
| Sai | 8 |
| Scimitar | 102 |
| Shuriken | 3 |
| Sword | 282 |
| Trident | 14 |
| Trombone | 201 |
| Whip | 10 |
1Damage decreased 30% by Lead Skeleton
2Damage increased 50% by Weapons Master
3Damage increased 100% by Martial Arts