Chef




Skill Type

Talent

Rareness

Semi Rare

Description

Inflicts 2% damage for every attack your opponent makes.
Chef is a Talent in MyBrute. When activated, you gain 1 death immediately, but in every training fight until server reset, your opponent (and his/her pets) suffers 2% of their max HP (rounded up) as damage at the end of each of their attack, when they glows green like being poisoned. This talent cannot be activated with 2 deaths.
The "poison" effect can be cured by Tragic Potion.
In Game text
Edit
"All brutes know that the biggest fight is in the canteen, not the arena!
"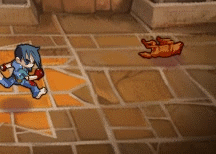 The Spanish translation is an error. "Jefe" is a typo when writing "Chef" in a translator, since "Jefe" translates to "Chief".
Other languages
Edit
Main article: Language
Language

Name

French
Cuisinier
German
Chef
Spanish
Jefe
Continue Reading
Edit